When I was younger, I loved SEGA. I had the Master System, the Genesis and the SEGA Saturn. I held on to SEGA until the Dreamcast which came as a great disappointment. Although everyone had Nintendo consoles, I was the SEGA fan. Why, you ask? Sonic the Hedgehog.
I looked up to him, he was my hero when I was a child. He was just this cool and radical hedgehog which you'd want as a friend. However, this experience changed my mind on that.
I was 26 and I was playing on my Sega Saturn when I noticed a box underneath my bed. I had no idea how it got there but I sure was interested. There was a note attached,
SEGA MD-1988 CONSOLE, GAME: MR. NEEDLEMOUSE.
A faded SEGA logo was on the box. I took of the lid. Inside I found a dusty motherboard of some sort, it was encased in a plastic box with a SEGA logo on the side. A small cartridge slot was visible: it looked like a Sega Genesis but without its plastic case. Picking the console up, I saw a small, Genesis-sized cartridge with a label:
MR. NEEDLEMOUSE 1988/07/10
I plugged in the slightly-broken SEGA Genesis and was greeted with a message on the screen:
SEGA MD-1988 DELAYED. MOVED TO PROJECT: GENESIS
Frustrated, I unplugged the console and threw it in the corner of the room. Picking up the cartridge, I realised something. If it didn't work on the broken Genesis, it would work on my actual working Genesis. Funnily enough, it worked and I was greeted by a much different sight.
It was the Sonic title screen, but much different. Sonic had an angrier expression, more spikes, there wasn't a background and the 'SONIC' text was replaced with 'MR. NEEDLEMOUSE'. Some text underneath read:
MR. NEEDLEMOUSE ALPHA. FOR USE WITH SEGA MD-1998. (C) SEGA 1988
EARLY BUILD. TO BE RENAMED SONIC THE HEDGEHOG.
Oh my god. I had found a Sonic the Hedgehog prototype. I knew that the earliest prototype dated back to 1990, a year before the game's release, but this jem of a discovery must've been the earliest version of Sonic the Hedgehog.
I realised the game wasn't playing any music and when I pressed start, a 'ILLEGAL INSTRUCTION' error appeared. I reset the game to be greeted by another 'ILLEGAL INSTRUCTION after pressing start. Eventually, I realised I'd have to insert the level select code to play the game. Luckily it worked and I was greeted by this:
GREEN ZONE
WATER ZONE
MARBLE ZONE
STAR ZONE
SPARKLE ZONE
CLOCK ZONE
I chose 'GREEN ZONE' expecting an early version of Green Hill Zone and that is what I got. However, this was much better.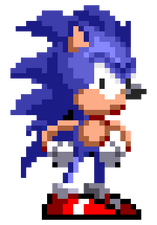 The music was much slower and sounded a lot like a guitar cover. Sonic (or Mr. Needlemouse) was looking at the landscape surrounding him. A large waterfall took up most of the background which I could see transparent steam clouds rising from the bottom of the waterfall.
The level looked a lot like a Japanese steam garden instead of a tropical paradise like seen in the 1990 demo of Sonic. Mr. Needlemouse looked at the screen impatiently and he soon began tapping his foot. I pressed right and Mr. Needlemouse began running in the Super Peel-out style from Sonic CD. It took 5 seconds for him to stop since he ran so fast. I wondered why this prototype was so much better than the final and why SEGA didn't use this version of Green Hill Zone in the final game.
There were a few enemies like the big jawed enemy from the 1990 prototype and Splats the Rabbit. I eventually came to a big ring which I presumed was used as the end of level. The moment I jumped into it, another 'ILLEGAL INSTRUCTION' appeared. I continued to push reset but the game had frozen. After about 15 presses, I noticed the screen had changed drastically.
Mr. Needlemouse was hovering in the air (not really hovering, just standing on nothing), tapping his foot. The graphics surrounding Mr. Needlemouse were all corrupted. I finally managed to reset the game, but something other than the title screen came on.
Mr. Needlemouse was stood in one of the underground sections of Marble Zone. The bricks were much blockier and looked like those in Labyrinth Zone. Also, I thought to myself, why did it skip Labyrinth Zone (or 'WATER ZONE'). It was next on the list of levels, wasn't it?
There wasn't any music playing yet I could hear the pixelated flickering of the torches and the moving lava. Sonic immediately began to run, gradually getting faster and faster. He eventually came to a bottomless pit and then he did the one thing I couldn't imagine in a Sonic game, he jumped.
He kept falling through the bottomless pit. Surely the game would realise he's falling too far out of the level. Then, I heard that song, the anthem of nightmares of early-1990s kids. The Labyrinth Zone drowning theme began to play. Once the song finished, Mr. Needlemouse plummeted into some spikes but the exact split-second before he was impaled, another 'ILLEGAL INSTRUCTION' error occurred
I reached over the turn off the game but the screen changed. It was Mr. Needlemouse lying on the floor of Marble Zone, motionless. Some text above him read:
DON'T LET HIM FOOL YOU.
But, I already realised, he had already fooled me.